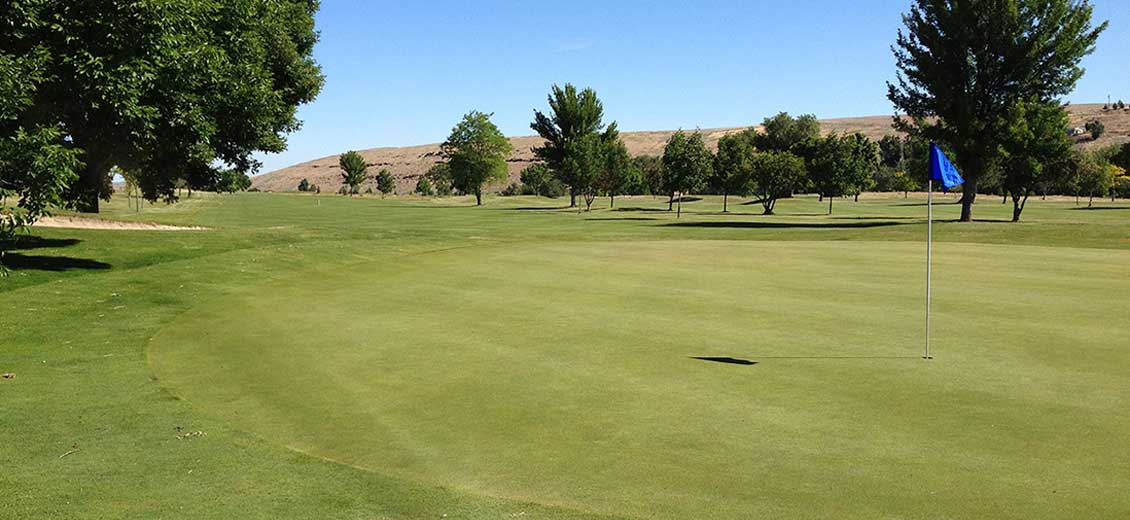 Open Tuesday thru Sunday. Call 541-443-4653 for tee time reservations!!!
The Wildhorse PCC Golf Course features an 18-hole par-72 course spanning 6,317 yards through the beautiful Birch Creek Valley.  The layout offers a challenging yet fun experience for golfers of all abilities.
Tired of being bogged down by slow play.  Wildhorse PCC's pace of play is extraordinarily fast with most groups getting done with 18-holes in under three and half hours.  Don't waste your whole day at the course.  Our pace of play allows golfers plenty of time to meet family and work expectations while still getting in a few rounds a week.
Come and check out our new Family Course.  A specific set of tee's set up for junior golfers, beginning golfers, or accomplished players looking for a quicker round of golf.  Just another way for families to enjoy the game golf while enjoying quality family time.
Men's Dress Code:  Golf attire is necessary.  Shirts must have collars.  No tank tops or t-shirts, swimwear or ragged jeans.
Women's Dress Code:  Golf attire is necessary.  No t-shirts, halter tops, tube tops, swimwear or ragged jeans.
Wildhorse PCC is proud to have golf course policies that assure a quality and fun experience for all golfers.  
Monday:                                     Closed
Tuesday:                                     8:00am – 6:00pm
Wednesday:                              8:00am – 6:00pm
Thursday:                                  8:00am – 6:00pm
Friday:                                       8:00am – 6:00pm
Saturday:                                   8:00am – 6:00pm
Sunday:                                      8:00am – 6:00pm
(Hours may change due to weather)
E-mail: cstoops@pga.com
The Wildhorse PCC Golf Course is proud to maintain a top of the line Pro-Shop. Finding equipment to fit your golfing needs has never been easier.  Whether it's new clubs, a new bag, or apparel, the Wildhorse PCC Pro-Shop stocks a large selection of quality gear to make your game its best.  
Never buy clubs off the rack again.   All Wildhorse PCC club purchases include free club-fitting.  Don't change your swing to fit your equipment, Wildhorse PCC's friendly professional staff will find clubs that complement your swing.  We are certified retailers of TaylorMade, Titleist, Adams, Cleveland, Bridgestone, and Cobra.  Plus, if we don't stock what you are looking for, we offer great rates on special orders.  No need to shop out of town or online; Wildhorse PCC pro shop offers unbelievable pricing on hardgoods and softgoods alike.
69772 HWY 395 South Pendleton, OR 97801
Wildhorse PCC Golf Course 2017