2022 Golf Rates and Scorecard
9 Holes
(Monday – Thursday)
9 Holes
(Friday – Sunday)
18 Holes
(Monday – Thursday)
18 Holes
(Friday – Sunday)
18-Hole Twilight
(Monday – Thursday after 2pm)
18-Hole Twilight
(Friday – Sunday after 2pm)
18-Hole Senior
(55+, Tuesday & Thursday)
9-Hole
(Junior Green Fee)
18-Hole
(Junior Green Fee)
9-Hole Cart Fee
(Season Pass Holders/Tribal)
18-Hole Cart Fee
(Season Pass Holders/Tribal)
Push Cart Rental
18 Holes
Ride Along Fee (per person)
*Season Passes include 1 OGA Membership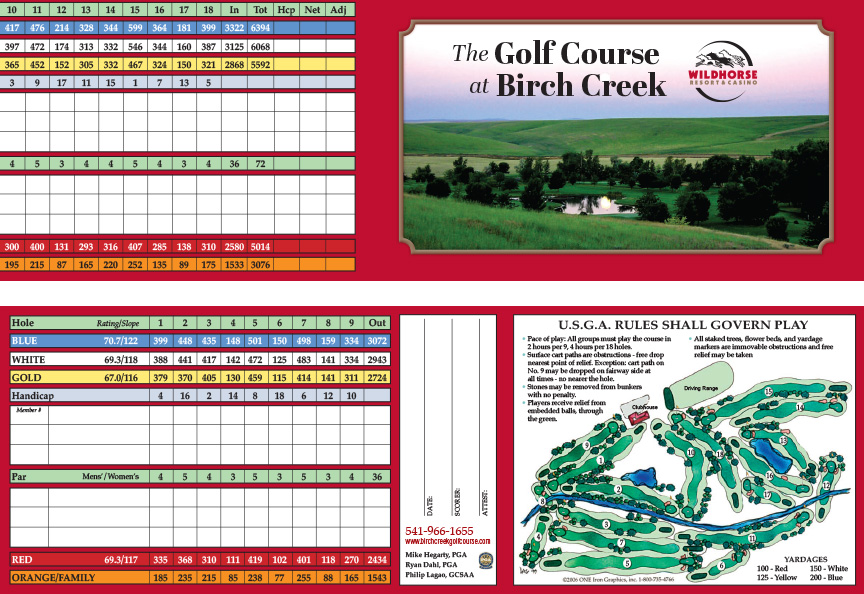 69772 HWY 395 South, Pendleton, OR 97801
Monday:  8am - 6pm
Tuesday - Sunday:  7am - 6pm
 Junior Golf
THE GOLF COURSE AT BIRCH CREEK IS A LEADER IN JUNIOR GOLF!

The Golf Course at Birch Creek is the heart of junior golf in Eastern Oregon. All junior golfers will receive unlimited range privileges and golfing privileges for free at the Golf Course at Birch Creek. That's right, no charge whatsoever. In return, we ask that juniors work on their games and become the most skilled golfers they can be, while having a lot of fun, of course.  Golfers ages 13 and under may play the course unaccompanied, but must first pass our junior golf quiz to do so.  After passing the quiz, unaccompanied golfers may play anytime weekdays and after 11am on weekends.  Proper golf etiquette and maturity is expected from our juniors at all times.
Benefits of Golf for Youth Development
Exercise:  Walking 9 Holes of golf amounts to nearly 3 miles!
Sportsmanship: Players must know and abide by the rules of golf and be able to conduct themselves in a kind and respectful manner towards others even in a competitive game.
Social Interaction: Golf builds healthy relationships by bringing juniors together in a friendly, competitive environment. A round of golf will encourage kids to socialize for more than two hours without the use of any electronic devices.
Responsibility: Players are responsible for their actions on the golf course. It is up to them to keep score, repair divots, rake bunkers, repair ball marks on the green, and keep up with the pace of play.
These are just a few of the benefits from participating in one of our junior programs. Please contact us for more information about this or of our golf programs. To get you started, we would like to offer a one-time lesson at half off the regular rate. Lessons can be taken as a family, by siblings, or one-on-one. We will even provide you with clubs if you need them!
________________________________________________________________________________________________________________________________
2020 Junior Golf Programs  There's a program for juniors of all ages and skill levels!
The Golf Course at Birch Creek Junior Golf Camps
3 Camp Sessions  (June 22-26, July 13-17 & August 24-28 - Dates vary)

Ages 6-10         (9:00 - 10:30am)
Ages 11 & Up  (11:00am - 1:00pm)

Introduction of all golf skills
Outdoor Games, Contests, & Golf Based Activities
6 Hours of Group & Individual Instruction
Best Suited for Golfers of All Abilities (Beginner – Advanced)
Cost $99 Per Golfer ($49 for Junior League Members)
PGA Junior League
Team Golf Program (Ages 13 & Under)
"Little League" Style Team Format
Season Runs From May - July
4 - 6 matches against other local teams
Cost is $275 per Golfer (includes $75 PGA Junior League registration fee)
Included with Entry:
-Team Uniform (Jersey, Bag Tag, Team Hat)
-Practice and Playing Privileges at Birch Creek course
For more information or to register visit:  http://www.pgajlg.com/